Akshay Jain - What I Learned During My MEM Summer Internship
Discover what a Product Management Intern does at John Crane Inc.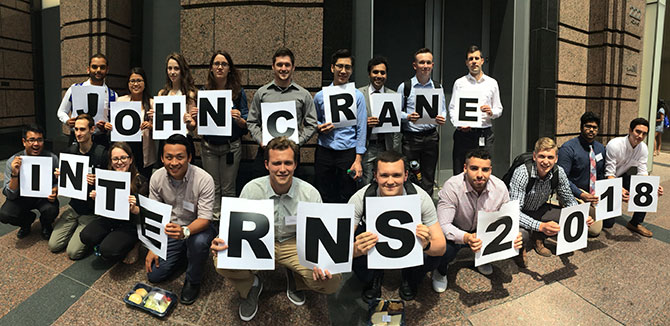 Full-time students in the Master of Engineering Management (MEM) program at Northwestern University have the opportunity (but are not required) to take part in a summer internship that allows them to practice the lessons they learned in the classroom in a real-world setting.
With the summer over and the start of the fall quarter upon us, the MEM program checked in with some of these students to hear about what they did at their internship and how they hope the lessons they learned help them after graduation.
Where did you do your internship?
John Crane Inc., which is located in Morton Grove, Illinois. The team of experts at John Crane use the latest technologies to maximize reliability, provide rapid response and develop innovations needed for mission-critical rotating equipment and challenging environments.
What were your responsibilities?
As a 'Product Management Intern,' I was assigned two responsibilities:
Identify Key Performance Indicators for each of John Crane's product lines, design dashboards that consolidated this information and A/B test them with Product managers.
Derive insights from pricing data and draw 'discounts offered' analysis across customers, products and regions on a COTS (Commercial- Off-The-Shelf) pricing tool.
What are three things you learned from the opportunity?
I learned that:
Working in iterations and getting constant feedback is key for a sustainable outcome.
Networking is valuable, and in mathematical terms, 'directly proportional' to opportunities.
Spending the first month of the internship defining the problem correctly, understanding the organization culture and networking is totally worth it.
How did your opportunity compare to what you want to do professionally after Northwestern?
This internship directly coincided with my career goal. With six years of software analyst experience followed by my Engineering Management degree (and Managerial Analytics as a concentration), I saw myself transitioning and best fitting to a Business Analyst profile. Therefore, I looked for opportunities that expanded pertinent skills. I spent this summer communicating with cross-functional teams, collecting KPIs, designing dashboards and automating analysis processes, all of which are intrinsic to a Business Analyst role.
How important do you think that type of opportunity is for MEM students as you and your classmates look to differentiate yourselves in the job market?
The most important thing for any MEM student is self-analysis. Each quarter, you'll have a vast array of courses to choose from, which will only leave you confused if you don't know your end goal. It is therefore key that you define it soon and work backward. The internship only fits if you choose a 15-month track, so knowing the track that goes in hand with your goal is important. If it does fit your timeline, self-analysis will help you look for relevant opportunities that you can show as experience later.
What was it about the MEM program that originally appealed to you?
As an Automobile Engineer, I've always wanted to work more closely and toward the development of the industry. While the advent of autonomous vehicles and connected technologies provided me the reason to come to the US (which is testing grounds for this technology), I wanted to leverage my experience at Ford Motors, too. I looked for programs that provided that vertical push while allowing me to build on my engineering background. Between the generous choices of electives and mandatory business courses, I found the balance I was looking for. MEM is a great program if you are at similar crossroads, plus Northwestern's reputation goes without saying.
How do you think MEM has prepared you for life after Northwestern?
MEM has reinforced the importance of continuous learning. The quick-paced quarter system pushed me and got me working at the speed I need to going forward. More jobs are found during events and through networking than any job site, and I learned that first hand. All this is by design, and it got me to adapt to the work culture here.
Is there anything else you'd like to add?
Don't be a victim of FOMO (Fear Of Missing Out), it happens to everyone. Enjoy the summers (those of you who choose a 12- or 15-month track) and stay true to your goals. Things weirdly work out.