Northwestern Alum to Teach New Product Management Course in MEM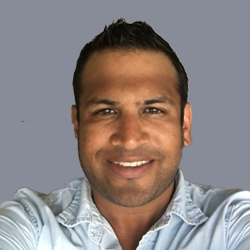 Birju Shah is joining MEM program with a new course, MEM490: Product Management, opening in the Fall 2017. Graduating from Northwestern University with a bachelor degree in Industrial Engineering/Economics and a MBA degree from Sloan School of Management at MIT, Birju is currently a Group Product Manager at The Climate Corporation and advisor to several Silicon Valley, Boston, and Chicago start-ups. He draws upon 15 years of building, launching, and scaling software, hardware, and big data solutions to solve large consumer problems. Today he is sharing some of his insights with us regarding his new class.

What Motivated You to Start Teaching?
The best impact I can have on the world at this point in time is to teach my experience to the next generation of innovators. Technology is at an inflection point where we are exponentially innovating new products everyday that will dramatically impact everyone's daily life. From thinking about living on Mars, 3D printing food, and how we measure the health on our body. Sharing information and experiences is one of the greatest inventions and unique to the human mind outside the genetic code. Its time for me to share my experiences and knowledge with the next generation and see what they can invent and surpass.

What is your Definition of Product Management? And What is the Difference Between that and Project Management?
To be clear PRODUCT management is not PROJECT management.

Good project management skill is fundamental and a component of product management. The simple answer is: as a product manager you are responsible for the ideation, vision, execution of a sellable or usable product for whatever usecase you are solving. Good product managers identify a problem and build a product to solve that problem. Great product managers figure out a way to do this at scale, create roadmaps to continuously enhance their product, measure the success and failures, and ultimately figure out how to cannibalize and build the next generation of their product.

To date, the best product managers I have seen mold innovative business thinking and think like a founder. Drive, passion, and ability to ruthlessly prioritize & communicate across all the stakeholders at a company is key.

I also answer this in my syllabus: Product Managers (PMs) can have a big impact on a technology company's performance. PMs define a product's functional requirements and then lead a team responsible for its development, launch, and ongoing improvement. MEM Product Management aims to build understanding of the PM role and develop skills required to perform the role by addressing the following issues:
What is a PM? Why are they necessary in Companies, Start-ups? Are they a mini-CEO?
What does a PM do and with whom do they work at different stages of the product life cycle? What are the attributes of successful PMs?
What techniques do PMs use to understand customer needs and validate demand for a product?
What does a PM need to know about user experience design?
Why do some tech companies require PMs to write detailed product specifications while others do not?
What is the difference between waterfall and agile software development methods, and when/why would one chose one over the other?
What does a PM need to know about technology, e.g., model-view-controller architecture, APIs, databases?
How do you develop an actionable Profit and Loss statement for your product (NOT A BUSINESS CASE!)
How Does your Background Fit with Teaching the Topic of Product Management?
I have built my own products in my own start-up, for big companies, and even re-built products for medium sized companies to get them out of trouble and sell to private equity. My products are used by over 1+ billion people and in 190+ countries, and range from large every day usage like traffic time in maps applications to lesser used niche but difficult to adopt markets like doctors and farmers diagnostics. All of these products had different experiences from deeply technical expertise needed to more business savvy partnerships required. However, the product process is remarkably similar.  (Check out the products at birju.me).

Currently as a Group Product Manager at one of the most innovative companies in the valley, I bring a unique perspective of what it is to build a successful product and scale it. This course aims to focus on building a successful product and arming you with the tools to scale it.

What Is Unique or Different About Your Course / Teaching Style?
This course is all about action learning. This means using your mind and hands (mens e manus) to think strategically and get down and dirty in execution. We will use case based approaches in each class, walk through real life products and problems to emphasize how you should be building your product, and market specs to enable your success.

What Do You Expect Student to Takeaway from Your Course?
MEM490: Product Management is designed as a 101 course for students who lack prior product management experience and who either wish to work in that role after graduation in a big tech company, in a startup or for aspiring founders who want to gain a better understanding of the product development process.

The class goals are simple: (1) Learn how to launch a product; and, (2) Learn how to obtain a top notch product management job in tech. I expect students enrolled in this class to want to build a product and have users use it. This class teaches you how to do it with success and if they are serious, build it in PM102. The goals are to give you the skills to do product management at a tech company or start-ups OR for you to start your own company with an amazing product & go to market strategy!

To learn more about the course and review the course syllabus, check out the MEM490: Product Management course website.