Recruit Engineering Talent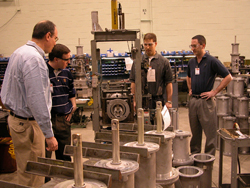 Engineering Career Development offers companies many opportunities and programs to recruit engineering students. 
If you are looking for co-op, intern, or entry-level, full-time candidates, we can work with you to schedule an event or develop a custom recruiting plan to meet your needs.
Explore the links below or contact Allison Berger at 847-491-2613 to get started.
Jump to a Section
Career Fairs
Fall
SWE Industry Day Career Fair
For all Engineering and Technology students and employers.
SWE Industry Day Career Fair takes place in October each year. SWE 2020 official date is 10/15/2020. For more information on dates Click here.
McCormick Interview Day will not be held fall 2020.
Winter
Formerly "Tech Expo Career Fair"
For all Engineering, Science, Math and Technology students and employers.
STEM Career Fair is held each year in January. Official date is still to be determined. For more information on dates Click here.
A great resource for STEM students.
McCormick Interview Day is still to be determined for January 2021.
Spring
Just-In-Time Career Fair
For all Engineering, Science, Math and Technology students and employers.
Just-in-Time Career Fair is held in April. Click here to see dates.
Posting Positions
Engineering Career Development uses a secure online database management system called McCormickConnect to connect employers and students for co-op, internship, and full-time positions.
Get Started
Log into McCormickConnect
Create a profile for your company/organization and designated point of contact in McCormickConnect
Once we activate your account, you will be able to post positions, review resumes of qualified students and select candidates for interviewing
If you have any questions, contact our Recruitment Coordinator, Michelle Bledsoe
Virtual Recruiting Events
Virtual recruiting opportunities include:
Events Featuring Just Your Company:
Host a Virtual Company Day
Set up your company booth on our online platform Brazen.
Meet and greet students throughout the day online.
Base cost is $50 for a booth using our platform.
Host A Virtual Information Session
Host a virtual information session to talk about your company and job opportunities with students.
Meet future candidates for your talent pipeline.
Information sessions are free to book if you are using your own platform. They are $50 if you plan on using our virtual platform.
Host Virtual Coffee Chats
Host Virtual Coffee Chats to meet with 1 or a few students in a more casual setting
Create an appointment schedule for students to sign up
Discuss career paths, offer to review resumes, give advice, or just talk with students.
Cost: Free
Conduct virtual Interviews
Post a position on McCormickConnect
Create an Interview schedule for students. Options include a preselect or open schedule.
Cost: Free
Broad Opportunities to Meet and Engage With Students:
Resumania!
Volunteer to help our students prepare for the Career Fair!
Virtually meet one-on-one with students using our platform.
Review student resumes for about 10-15 minutes.
Discuss career paths, give advice, or just talk with students
Cost: Free
Meet These Companies Virtually
Host a virtual booth to share information about your company or organization. What engineering roles and skills sets is your company looking for?  What is your company recruiting timeline and hiring process? 
This is a great opportunity to virtually chat one on one with engineering students. 
Base cost is $75 per booth and two company representatives. 
Click here to see dates
Conduct Virtual Mock Interviews
Conduct a 30 minute behavioral Virtual Mock Interview with feedback at the end for students
Create an appointment schedule for students to sign up
A great way to meet students in a professional way to help them prepare for future interviews.
Cost: Free
Civil And Environmental Engineering Career Fair
Registration will be through McCormickConnect.
Cost: Free
Attend Our Student/Employer Networking Events
In addition to our career fairs, we hold a number of other student/employer engagement events throughout the year
Keep an eye on the "Career Events" tab in McCormickConnect to see all of our upcoming events
Contact Allison Berger, Manager, Employer Relations at 847-491-2613 to schedule your on-campus recruiting event. You can also see a calendar of our major recruiting events on the Recruiting Events Calendar.
Off-Campus Recruiting Events
Off-campus recruiting opportunities include:
Virtual events
Virtual information sessions
Virtual career fairs
Shadow days
Company or plant tours
Contact Allison Berger, Manager of Employer Relations, at 847-491-2613 to start planning your recruitment strategy.
Interviewing
To arrange a date to interview students on or off-campus, contact Michelle Bledsoe, Recruitment Coordinator, at 847-491-5994.
To optimize your travel, you can coordinate your interviewing schedule with any of our career fairs or register for McCormick Interview Days. Please take our student academic calendar into account when planning.
How to hire international students
International students account for 23% of Northwestern's full-time student population, and bring a wealth of talent and diverse perspectives to the organizations where they work.
Employers can hire Northwestern international students for internships under CPT (Curricular Practical Training) and for post-graduation roles under OPT (Optional Practical Training). 
For more information about hiring international students, see our Northwestern Employer Guide: Hiring International Students.
Policies & Expectations
Offer Deadlines
Engineering Career Development expects students will pursue opportunities of genuine interest, and thoughtfully and carefully evaluate all extended job offers. To give students adequate time in their decision making, we request that organizations use the following offer guidelines:
For offers of full time employment extended to summer interns, offers should remain open until November 5.
For all other formal offers of employment (intern or full time), offers should be open for a period of three weeks.
Occasionally, an employer's hiring timeline may fall outside of these preferred windows, and/or a student may ask for an extension or exception to these dates.
We expect employers will:
Demonstrate flexibility in working with students to consider reasonable requests
Communicate hiring timelines clearly and acknowledge if they fall outside ECD's preferred offer policy guidelines
Not place undue pressure on students to make offer decisions
We expect students will:
Not accept an offer for employment while continuing to pursue other opportunities
Make requests for reasonable accommodations in a timely manner
Work under advisement of ECD and make ECD staff aware of any instances in which our stated offer dates cannot be met
Once you accept a job offer, whether via On-Campus Recruiting or in an independent job search, it is the expectation that students will decline other interview invitations and stop applying for other opportunities. Reneging on an offer is unprofessional behavior that negatively impacts the student's reputation and that of Northwestern University, our alumni, and current students. 
More in this section