Recruit Engineering Talent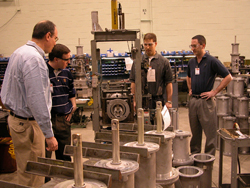 Engineering Career Development offers companies many opportunities and programs to recruit engineering students. 
If you are looking for co-op, intern, or entry-level, full-time candidates, we can work with you to schedule an event or develop a custom recruiting plan to meet your needs.
Explore the links below or contact Allison Berger at 847-491-2613 to get started.
Jump to a Section
CAREER FAIRS
FALL
For all Engineering and Technology students and employers.
The next SWE Industry Day Career Fair will be October 19, 2017.
McCormick Interview Day is held the day after SWE for employers who want to interview students on-campus after the Career Fair.
WINTER
For all Engineering and Technology students and employers.
Tech Expo will be held Thursday, January 25, 2018 from 4:00-8:00 pm at The Hilton Orrington in Evanston.
McCormick Interview Day is held the day after Tech Expo for employers who want to interview students on-campus after the Career Fair.
Posting Positions
Engineering Career Development uses a secure online database management system called McCormickConnect to connect employers and students for co-op, internship, and full-time positions.
Get Started
Log into McCormickConnect
Create a profile for your company/organization and designated point of contact in McCormickConnect
Once we activate your account, you will be able to post positions, review resumes of qualified students and select candidates for interviewing
If you have any questions, contact our Recruitment Coordinator, Michelle Bledsoe
On-Campus Recruiting Events
On-campus recruiting opportunities include:
Host a Company Day
Set up your company table in a key visibility location for engineering students
Meet and greet students throughout the day
Base cost is $350
Host an Info Session
Host an information session to talk about your company and job opportunities with students
Meet future candidates for your talent pipeline
Information sessions are free to book
Host a Meet and Greet
Hold office hours to meet students in a conference room
Discuss career paths, offer to review resumes, give advice, or just talk with students
Base cost is $100
Represent your Company at a Career Exploration Day
Held quarterly, our Career Exploration Days are based around specific industries and feature companies and representatives from those industries
Network with students and explain what engineers do at your company and describe possible career paths
View and register for our upcoming Career Exploration Day events by clicking on the Career Events tab in McCormickConnect. This event cost $150 to attend for employers. Included are a high top table with two chairs, parking, and lunch.
Attend our student/employer Networking events
In addition to our career fairs, we hold a number of other student/employer engagement events throughout the year
Keep an eye on the "Career Events" tab in McCormickConnect to see all of our upcoming events
Contact Allison Berger, Manager, Employer Relations at 847-491-2613 to schedule your on-campus recruiting event. You can also see a calendar of our major recruiting events on the Recruiting Events Calendar.
Off-Campus Recruiting Events
Off-campus recruiting opportunities include:
Virtual events
Virtual information sessions
Virtual career fairs
Shadow days
Company or plant tours
Contact Allison Berger, Manager of Employer Relations, at 847-491-2613 to start planning your recruitment strategy.
INTERVIEWING
To arrange a date to interview students on or off-campus, contact Michelle Bledsoe, Recruitment Coordinator, at 847-491-5994.
To optimize your travel, you can coordinate your interviewing schedule with any of our career fairs or register for McCormick Interview Days. Please take our student academic calendar into account when planning.
More in this section