Alumni Profile: Regan Via
Undergraduate experience helps alumnus make early-career impact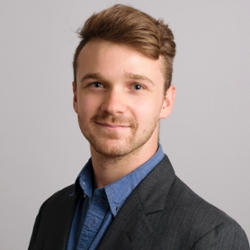 After graduating with a degree in biomedical engineering from Northwestern in 2015, Regan Via joined EdgeOne Medical, a medical device developer that also offers product development support and life-cycle management for innovative medical technologies.
In his role as product development engineer, Via works with clients ranging from leading pharmaceutical companies to startups to provide key deliverables for FDA medical device submission. He also designs and executes protocols for medical device verification and validation testing, and authors design history documents supporting the development of several medical devices, including a syringe stabilizer and dry-powder inhaler.
Via's early-career success is a credit, in part, to his experience gained as an undergraduate at Northwestern, which included an engineering co-op at Baxter International and research within Northwestern's Center for Innovation in Global Health Technologies, where he helped test a p24 antigen assay — a low-cost, point-of-care HIV diagnostic for infants.
"Regan's undergraduate experience accelerated his onboarding and contributions to successful testing programs for combination product projects," said Lilli Zakarija ('95, MEM '01), president of EdgeOne Medical, a biomedical engineering alumna, and member of the BME Advisory Board.
"Whether through research or internships, hands-on experience as an undergraduate is critical to achieving success in the medical and biotechnology industry."