PhD Candidate Brian Aguado Profiled in Chicago Tribune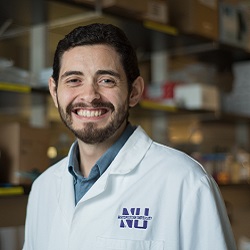 Brian Aguado calls his research group "Team Tumor." The biomedical engineering PhD student is a member of an interdisciplinary team working to spot cancer cells before the disease spreads.
Aguado and others are working to design "bait cars" for cancer cells. The research team developed a new material that, after being implanted into the body, uses signals to lure tumor cells. Then the material can be extracted and analyzed for early cancer detection. The Chicago Tribune recently profiled Aguado, who will give a TedX talk about his work on May 9.
"Our technology aims to help a wide array of cancers to be able to detect metastasis at an earlier stage to be able to intervene earlier," Aguado told the Tribune. "We've only worked with breast cancer in mice, and we're moving toward pancreatic cancer models."