Managing All Facets of a Construction Project
Current EMDC student Ashlee Cohen talks about how the program is helping her grow her career and strengthen partnerships with Watchdog Real Estate Project Management.
Ashlee Cohen is the project manager for Watchdog Real Estate Project Management, a Los Angeles-based company that focuses on high-end commercial projects such as office spaces, retail, and restaurants. Her job is to manage all facets of a construction project, from reviewing leasing language and managing permit processes to coordinating between vendors and ensuring a project is within budget and on schedule.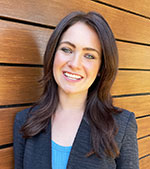 "I basically describe what I do, for those not in the industry, as a wedding planner for construction projects," Cohen said. "As an owner's representative I facilitate all aspects of a project to make sure the process is seamless. Great interpersonal skills are very important. You need to be able to have people enjoy working with you and you need to make sure everyone is getting along on both sides of the aisle." 
Cohen started with her company in 2019 as an associate project manager and was promoted in January 2021. She wanted to further develop her own skills and sought a master's program heavy on business-skill development while also focused on the construction industry. She found what she was looking for in Northwestern Engineering's Master of Science in Executive Management for Design and Construction (EMDC) program.
"The EMDC program offered the perfect flexibility to work full time and also earn a MS degree," she said. "The classes start at 4:30 p.m. for me, which allows me to finish by dinner and spend time with my family. I also love that all of my classmates are in the A/E/C industry."
Cohen is on pace to graduate in June 2023, but she's already applying lessons learned in the program to her day-to-day work. 
In Construction Law and Risk Management, she studied ethics lessons that help her manage disputes with contractors. In Lean Construction, she realized the importance of getting out of the office and talking with workers, a lesson she now shares with the associate project managers who report to her. Finance and Accounting for Executives was the class she learned the most in.
Communication and Negotiation, meanwhile, has been the most valuable.
"Everything I learned in that class is very applicable to the communication I have to do every day as a project manager," she said. 
Communication is very much the bread and butter of her job. Cohen isn't coordinating just one project at a time. She's the single point of contact for many projects simultaneously, and serves as the main coordinator between the client, contractor, and consultants. 
"The construction world moves at lighting speed, so the project manager needs to be on top of things," she said. "This means timely communication, direction and action. The people who take too long to make decisions will not last very long." 
Cohen's plan is to be a project manager who lasts. Her EMDC experience is giving her new skills to be successful, and she holds an appreciation for a side of the industry she said many people don't often see.
"Construction project management can be more glamorous than people expect," she said. "I get a lot of face time with CEOs and executives of various institutions and companies. It is a wonderful experience to help a wide range of stakeholders achieve their design and project goals."