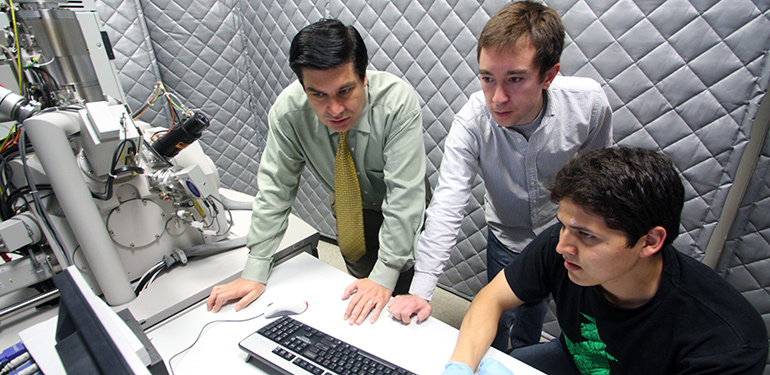 Overview
The Theoretical and Applied Mechanics (TAM) Program at Northwestern Engineering is a premier research and academic program that offers both a Master's and PhD degree. TAM is ranked among the top programs in the nation.
With award-winning, internationally renowned faculty members, the program provides graduate students with an exceptional range of opportunities to advance their knowledge and careers in a scholarly community that's small enough to assure individual attention and effective mentoring. Our program prepares graduate students to become the next generation of leaders in research, academic, and corporate settings.
Jump to a Section
DEGREES
We offer the following graduate degrees through Northwestern University's Graduate School:
Master of Science (MS) in Theoretical and Applied Mechanics
Doctor of Philosophy (PhD) in Theoretical and Applied Mechanics
Request more Information
Download a PDF brochure about your program of interest, and get in contact with our graduate admissions staff.
Curriculum & Requirements
All programs of study are determined on an individual basis between the student and the adviser of the home department. All courses must be approved by the adviser. The following requirements are in addition to, or further elaborate upon, those requirements outlined in The Graduate School Policy Guide.
Master's Degree (12 Courses Required)
In addition to completing 12 courses, students must complete the following requirements:
Examinations: final oral comprehensive examination on master's thesis or on report of research project
Research/Project: with approval of adviser, report on research project may serve in lieu of master's thesis
PhD Degree (15 Courses REquired)
In addition to completing 15 courses, students must complete the following requirements:
Examinations: oral qualifying examination prior to admission to candidacy
PhD Dissertation: dissertation in area of solid or fluid mechanics
Final Evaluations: oral defense of dissertation
FACULTY
Our faculty members are internationally renowned scholars and researchers that have been honored around the world for pioneering work. In addition to their scholarly activities and accomplishments, all of our faculty members are passionate about teaching. Several have won university-wide teaching and advising awards.
RESEARCH
Our program conducts cutting-edge research that is organized into the following research area groups:
More in this section