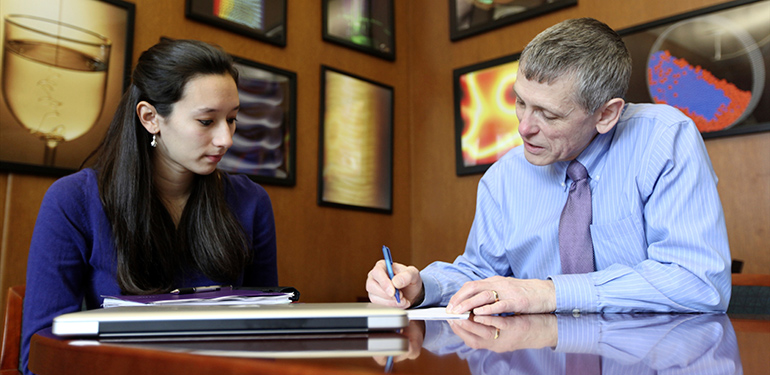 Admissions
Thank you for your interest in the Theorectical and Applied Mechanics (TAM) program. This page contains information about application requirements and deadlines.
Application Deadline
Recommended fall quarter: December 15

For the best chance of admission, ALL application materials should be submitted before the recommended submission deadline.
Admission Requirements
Before applying to the TAM program, please read the admission requirements detailed below.
Degree
Applicants should have an undergraduate degree in engineering, but individuals with quantitatively-based degrees and/or appropriate work experience will be given serious consideration, provided certain basic engineering and science requirements are satisfied in addition to the stated requirements of the program.
Transcripts
All colleges and universities attended must be listed on the application form whether or not a degree has been awarded, or is expected to be awarded, and an unofficial transcript from each institution must be filed with the application.

Letters of Recommendation
We require three letters of recommendation from people who are able to evaluate your professional experience and your capacity for independent academic work. The recommendation letters will be used to aid in the admission decision, but they will not become part of the student's permanent file.
Test Scores
Unless a written waiver is obtained, all applicants must provide a GRE and TOEFL score. Please submit photocopies of your GRE and TOEFL score reports with your application. Official scores may be sent to Northwestern University at institution code 1565.
Resume
You must upload a current resume or CV in the online application.
Application Fee
A non-refundable $95 single-application or $150 dual-application fee is required. Payment can be made either online by a credit card or by a check payable to Northwestern University (all checks must be in U.S. funds and drawn on a U.S. bank). Payment cannot be waived or postponed.
International Students
For international students, the TOEFL score is only necessary if you have not completed a BS or MS in the United States. The TOEFL requirement has been changed so that PhD applicants must have 90 (233 computer-based and 577 paper-based) and MS applicants must have 80 (213 computer-based and 550 paper-based) on the internet-based TOEFL.
For visa issues please contact the International Office.
If you have any additional questions about international admissions please contact Bruce Lindvall, the Assistant Dean for Graduate Studies.
Additional Questions

If you have any questions about the admissions process, please review our frequently asked questions or contact Bruce Lindvall.
More in this section