New Realities For Construction Education
Sepehr Alizadehsalehi, Ph.D., (MPM '19) studied virtual and augmented reality to understand how they benefit construction and engineering businesses.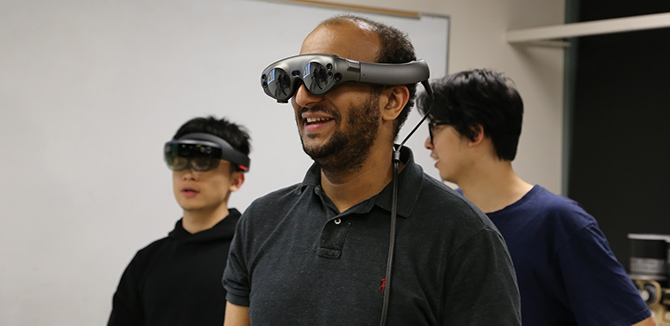 More educators in grade schools and in workplaces are using virtual reality (VR) and augmented reality (AR) as immersive experiences into a subject. VR and AR generate unique learning environments that would be tough to touch, dangerous to manage, or do not even exist. 
Northwestern Engineering's Master of Project Management (MPM) program has a VR/AR laboratory to help students use all the technology for construction and engineering. Sepehr Alizadehsalehi (MPM '19), a PhD in Construction Innovation and Technology Management and a research fellow at Northwestern studying VR and AR, helped establish the lab, including setting up and managing equipment, software, and lab spaces for experiments.
Alizadehsalehi said these new ways of teaching help learners develop a greater understanding of their professional tasks in the field. Instead of navigating a work site's risks as they happen, VR and AR make it possible to interact collaboratively in a safe setting prior to getting on site.  
"In traditional two-dimensional drawings, it is tough for students to visualize a building, sections, and elevations, along with mechanical, electrical, and plumbing details," Alizadehsalehi said. "VR and AR technologies allow students to step into a design, get the idea of how the building will look once it is constructed, and visualize all steps and various possible design and construction scenarios.  
"These new realities are beneficial for generating interest and motivating student participation, assisting imagination, and enabling visualization of complex models that are not possible in traditional classrooms."
The two technologies are similar but not identical. VR is a completely new, immersive environment created from scratch, similar to a video game. It is an immersive experience where users put on glasses and earphones or headsets in order to replace the real world with a virtual one. This would be used, for example, to explore the mockup of a building that hasn't been built yet. An engineer could see how the layout would look and locate any potential problems prior to the construction. AR, meanwhile, inserts digital elements within a live view, like smartphone games such as Pokemon Go. Using this technology, an engineer could use their phone and AR device to survey an empty work site and see the locations of specific aspects of a new construction development.  
The two technologies work in tandem with building information modeling (BIM), which can be a digital duplicate of a project that serves as a working model on a job site.
All of the technologies can be beneficial in a classroom environment, Alizadehsalehi said. Several VR and AR scenarios can be applied to many aspects of architecture, engineering, and construction by providing visualizations not imaginable in traditional teaching. "Virtual and augmented realities help create curiosity and help students become more dedicated and inspired," he said. In addition, the technologies grab and hold students' attention, increasing their commitment to the subject. Language barriers for international students are minimized by showing the subject at hand, rather than simply talking about it. 
"VR and AR allow students to investigate virtual environments from different viewpoints, empowering them to freely examine creative impulses and provide them with a more comprehensive understanding of learning targets," Alizadehsalehi said. "They help bridge the digital data in 3D/4D to a more understandable shape and scale for students."
Along with his fellowship at Northwestern, Alizadehsalehi is a civil engineering designer and consultant for DCS Midwest Construction, where he regularly uses BIM software and technologies and relies on the lessons he learned in MPM. 
"What I learned from the MPM program was not just a dry science," Alizadehsalehi said. "My professors shared their experiences with me and my classmates. I was amazed at how much the topics covered in the MPM program are applicable in a professional environment."