Northwestern Forms Lean Construction Institute Community of Practice
Master of Project Management (MPM) students are learning more about principles of Lean thinking to affect change in the construction industry.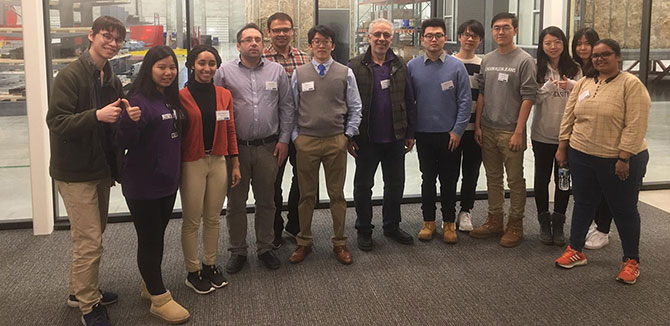 One of the major innovations in the world of design and creation is the use of Lean construction methods. Lean is a management and production method aimed at creating predictable workflow by eliminating waste or nonvalue-added activities, thereby increasing value to internal and external customers. 
Lean Construction is relatively new, taking root in the 1990s with the early research and writings of Greg Howell, Glen Ballard, Lauri Koskela and others. They, and other early adopters, formed The Lean Construction Institute (LCI), a primarily volunteer membership-based organization.  Their mission is to deeply collaborate and transform an antiquated and unproductive design and construction industry by adopting and adapting Lean principles and processes. 
An area where LCI is making great strides is on college campuses, both with the development of formal Lean curriculum like that initiated in Northwestern Engineering's Master of Project Management (MPM) program as well s the creation of new Lean student Communities of Practice (LCI CoP). Students in MPM recently formed an LCI CoP, and they intend to further explore the benefits of this proliferating production method, spread the word about Lean design and construction, and concurrently enhance their employability.  
"I first heard about LCI during our orientation for the MPM program last fall," said NU LCI CoP president Mohammed Junaid Mehkri. "Ratna Kunwar (MPM '18) spoke to us about LCI, its Chicago Community of Practice (CoP) and its plans to set up a student CoP at NU and other Chicago-area universities."
MPM also featured a course on Lean construction taught by adjunct professor Rich Seiler, who is a Lean consultant and former Chairman of Chicago's LCI Community of Practice, as well as its pilot academic chapter.
"The goal of Lean thinking is to create a predictable workflow by eliminating waste, effectively managing resources, and stabilizing hand-off of information, material and work," Seiler said. "This improves morale which helps increase teamwork and performance."  
It was in Seiler's class that Mehkri learned how Lean principles were developed by Toyota for its production system.
"I was curious to see how philosophies and principles that originated in manufacturing could be applied in the construction industry and after a couple of classes, my interest increased," he said. "I thought the student chapter could be a fun way to learn more about Lean construction while getting a chance to deeply engage with industry professionals in a collaborative effort to improve both our companies and projects while expanding our learning." 
Mehkri, along with two other MPM students, started the Northwestern chapter in October 2019. The chapter currently has 10 members and is hoping to expand its membership through the recruitment and membership of undergraduate students.
For now, the NU CoP is attending industry events and querying Lean practitioners to get an idea of best-known practices.
"(These events) have provided us with great insight on the direction in which the construction industry is heading and gave us the opportunity to network with industry professionals from the area," Mehkri said. "They've helped us become familiar with a philosophy that is actively being used in the industry today."
Mehkri believes Lean thinking can help drive the construction industry forward in several critical ways, such as improved productivity and lower cost, making its increased adoption by the major players in the business an important next step. He also thinks it is a philosophy that young professionals will gravitate toward.
"Young professionals are drawn to Lean because it represents a different way of doing things," he said.