MSR Program Hosts Open House
Students present work to industry representatives, as well as Northwestern faculty, students and staff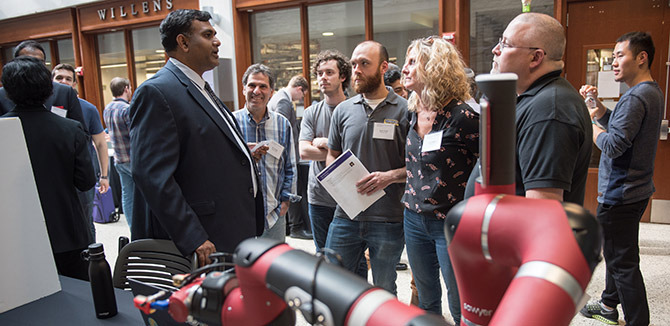 Northwestern Engineering's Master of Science in Robotics program hosted its annual Open House on Monday, May 14. The event featured students displaying their winter quarter projects and was attended by students, faculty and staff from across Northwestern University, as well as external industry representatives.
"The student projects worked reliably, which is not always a given with live robotics demos, and we heard consistently positive feedback on the interactions with the students," said MSR Associate Director Jarvis Schultz. "It seemed like outsiders to the program were impressed with how well the students were able to communicate about their projects."
Schultz explained that there are multiple goals for the event that depend on the individual audience. For students, the hope is that they are able to practice their "elevator pitch" about their specific project. Additionally, having the Open House be attended by such a varied representation allows the students to improve their unstructured technical communication skills.
"All of the students are either actively on the job or internship market right now or are planning on beginning the job search soon," Schultz said. "This practice can help them be more successful on their early interviews."
When it comes to attendees, the focus is making sure they see and understand the exciting robotics work taking place in the program. All attendees receive a student information booklet that includes each student's picture, biography, and a description of their projects and technical interests.
"While recruiting is not necessarily an explicit goal, we do want to help both companies and students have a productive conversation if there is an opportunity for employment or future collaboration," Schultz said. "The hope is that this will help companies keep track of who they interacted with at the event, and who knows, if they had a positive experience with a student, maybe this could lead to a future opportunity for the student and the company."