Faculty Directory

Chi-Haur Wu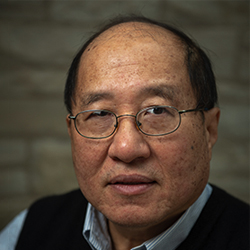 Associate Professor of Electrical and Computer Engineering
Contact
2145 Sheridan Road
Tech Room M309
Evanston, IL 60208-3109
847-491-7076
Email

Chi-Haur Wu
Website
---
Departments
Electrical and Computer Engineering
---
Education
Ph.D. Computer Engineering, Purdue University, West Lafayette, IN
M.S. Electrical Engineering, Virgina Tech, Blacksburg, VA
B.S. Electrical Engineering, National Taiwan University, Taipei City, Taiwan
Research Interests
1)    Solar-powered (or battery-powered) electrical motor-driven vehicles.
2)    Muscle compliant control for computer assisted surgical robot and rehabilitation robot.
3)    Tele-manipulation and sensing control.
4)    Human augmentation control for hoist and material handling applications.
5)    Intelligent product assembly manufacturing
6)    Electronic circuit design, sensor circuit design and control.
7)    Interactive robotics for industrial, consumer, and recreational applications.
8)    Damper control for active suspension, force absorbing, and vibration isolation.