Faculty Directory

Johannes Weertman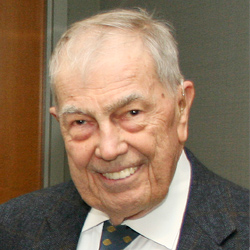 Walter P. Murphy Professor Emeritus of Materials Science and Engineering
Member of the Graduate Faculty
Contact
2220 Campus Drive
Cook Hall 2036
Evanston, IL 60208
Email

Johannes Weertman
---
Departments
Education
D.Sc. Physics, Carnegie Institute of Technology, Pittsburgh, PA
B.S. Physics, Carnegie Institute of Technology, Pittsburgh, PA
Research Interests
Our research areas are the mechanical properties of metals, including fatigue and fracture of metals, the high-temperature creep of crystalline solids, and dislocation theory applied to these phenomena. We are developing dislocation-based solutions of the plastic regions around stressed cracks. These solutions rely on dislocation crack tip shielding and dislocation crack extension force conditions. In fact, we believe that complete solutions for crack problems in elastic plastic solids cannot be obtained, except for the most simple problems, without use of the dislocation equations.
In the area of geophysics, we recently developed a theory for the migration of subglacial lakes under ice sheets and earthquake dislocations moving at a transonic velocity on a fault separating rock of sightly different elastic constants.In the area of geophysics, our primary research area is in the theory of the flow of glaciers and ice sheets.
Prof. Weertman has an island in Antarctica named after him.
Significant Recognition
Seligman Crystal of the International Glaciological Society, 1983
Acta Metallurgica Gold Medal, 1980
Champion H. Mathewson Gold Medal of the Metallurgical Society of AIME for work on creep and fatigue fracture, 1977
Guggenheim Fellowship, 1970
Robert E. Horton Award, American Geophysical Union, 1962
Fulbright Fellowship, 1951
Fellow, Geological Society of America, 1970; ASM International, 1972; American Physical Society, 1982; American Geophysical Union, 1982; TMS–AIME, 1990; American Academy of Mechanics
Significant Professional Service
Walter P. Murphy Professor Emeritus of Materials Science and Engineering
Member, American Academy of Arts and Sciences, 1997
Member, National Academy of Engineering, 1976
Selected Publications
J Weertman, "The problem of a moving subsonic edge dislocation near an interface solved with only discrete image dislocations", Philosophical Magazine, (2011)
Weertman, J., "Correction to ?Subsonic type earthquake dislocation moving at approximately$\times$ shear wave velocity on interface between half spaces of slightly dfferent elastic constants?", Geophysical Research Letters, (2010)
J WEERTMAN, "Subsonic type earthquake dislocation moving at approximately root 2x shear wave velocity on interface between half spaces of slightly dfferent elastic constants (vol 37, L09306, 2010)", Geophysical Research Letters, (2010)
J Weertman, "Curvilinear Coordinate Condition for Antiplane Strain Deformation in Power Law Plastic Solid", Mathematics and Mechanics of Solids, (2009)
J WEERTMAN, "Curvilinear Coordinate Condition for Antiplane Strain Deformation in Power Law Plastic Solid", MATHEMATICS AND MECHANICS OF SOLIDS, (2009)
Weertman, J., "Dislocation crack tip shielding and the Paris exponent.", Materials Science and Engineering a-Structural Materials Properties Microstructure and Processing, (2007)