Curious Life Certificate
Setting your intention to be curious is the most powerful way to foster learning and healthy connection. The Curious Life Certificate allows Northwestern undergraduate students from all schools and departments to develop the skills and habits of effective self-management. Through a series of classes that directly address the self-reflection and skills needed to develop personal direction in life, students will understand the core drivers of their performance; Psychology (how you think), Biology (how you feel), and Strategy (what you do). By helping students understand the interconnected nature of these drivers and their collective impact on performance, students will gain the knowledge and experience to be curious, self-directed learners.
Attend an upcoming information session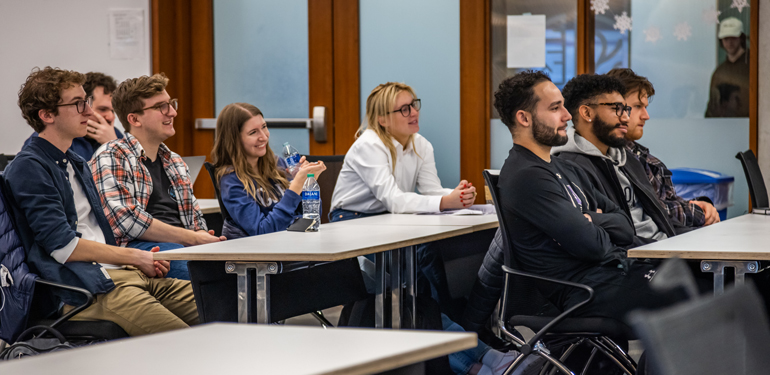 Why Pursue a Curious Life Certificate?
All classes in this certificate — as well as the required PRDV 200: PATH gateway course — follow the guiding principle that developing a curious mindset allows students to both set a personal direction as they leave college, and continuously monitor, adapt, and grow throughout their lives.
Who Should Enroll?
Any Northwestern undergraduate interested in augmenting their education with mindsets and tools for designing a curious life.
Curriculum and Requirements
The CLC curriculum is centered on the principles of mindfulness. The present moment is your only opportunity to show up for your life, and how you show up matters. The three channels through which you connect to your life include your emotions, your physical sensations, and your stories. Each of these channels represent one of the requirements for the certificate, along with the PATH program and Designing Your Life.
Foundational Course Requirement (0 course credit)
PRDV 200: PATH (0 credit)
Your Emotions Requirement: (1 course credit)
PRDV 325: Emotional Intelligence 101: Managing Yourself, Maximizing Your Potential
Your Physical Sensations Elective: (1 course credit from the following list)*
PRDV 345: Whole-Body Thinking: Collaborative Problem Solving through Partner Dancing
PRDV 395: Life Development Through Yoga Practice
THEATRE 171: Basic Acting
Additional courses by petition.
Your Stories Elective: (1 course credit from the following list)*
PRDV 335-1: Engineering Improv I: The Art of Allowing (0.5 credit)
PRDV 335-2: Engineering Improv II: The Art of Application (0.5 credit)
SLAV 210: Russian Literature
ENTREP 311: Storytelling for Business
THEATRE 332: Art of Storytelling
Additional courses by petition.
Certificate Capstone Requirement: (1 course)
PRDV 300 (cross-listed as DSGN 300): Designing Your Life
How to Enroll
Students can use the McCormick Advising System (MAS) to declare the Curious Life Certificate. Any Northwestern student can log in to MAS with their NetID and password.
Curious Life Certificate Information Session
Join leaders from the Northwestern Personal Development StudioLab for a presentation about the new Curious Life Certificate (CLC), a series of courses designed to give you a holistic approach to your performance both academically and in your personal life.
Learn more about the CLC curriculum and eligibility requirements to enroll in the program, which will launch in fall 2023. All students must take CLC's pre-requisite course, PRDV 200: PATH, before joining the program. Those wishing to start the certificate program in the fall can still enroll in PRDV 200: PATH in spring quarter 2023.
The information sessions will be held in-person with the option to attend via Zoom.
Information Session 1
Wednesday, May 17, 12:30 - 1:30 p.m.
Hive Annex, Room 2-340, Ford Engineering Design Center
Free Pizza Provided
Attend in-person or join us via Zoom.
Information Session 2
Thursday, May 18, 11 a.m. – Noon
Hive Annex, Room 2-340, Ford Engineering Design Center
Free Pizza Provided
Attend in-person or join us via Zoom.
Contact
Students within McCormick should contact Joe Holtgreive. Students outside McCormick should contact Bruce Ankenman.
More in this section