Student Global Opportunities
Jump to a Section
Global Exchange Welcome
Global Initiatives will host a second annual "Global Exchange Welcome" on Friday, September 22nd from 4pm-6pm in Cohen Commons, located in the Technological Institute, L482. This is a meet-and-greet social hour for all incoming engineering exchange students from McCormick partnering institutions such as Koç University, ETH Zürich, Shanghai Jiao Tong University and University College London, among others. McCormick students who have returned from their own experiences are welcome to join, along with the faculty and staff who have assisted with these student exchange programs. The goal of this event is to connect these incoming exchange students with McCormick faculty and students who have special interests abroad either through research or study. This new event garnered over 25 attendees last year and was such a success that the Global Initiatives office has decided to host it every fall quarter.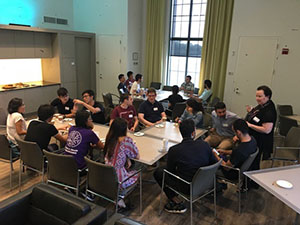 Global initiatives Fair
For the past four years, Global Initiatives has proudly hosted the Global Initiatives Fair, an event designed to highlight international science and engineering opportunities such as study abroad, co-ops, internships and global research projects.
This year the Global Initiatives Fair will take place on Thursday, November 9th from 11am to 2pm in the Technological Institute lobby.
Northwestern offices such as International Program Development (IPD), Study Abroad (SAO) and the Global Engagement Studies Institute (GESI) are present at the Fair, offering engineering students the unique opportunity to learn about the multiple global offerings available in their field. Additionally, the Office of Fellowships and the Office of Undergraduate Research are also present to inform engineering students of the numerous funding and research opportunities available.
The Global Initiatives Fair, which takes place each fall quarter, is just one of the many activities Global Initiatives has launched to promote international awareness and activity among engineering students.
Also in attendance at the Global Initiatives Fair are the Global Initiatives Student Ambassadors who were awarded funds last summer to complete international work. This allows student attendees to speak to those who have studied abroad and learn first-hand just how fruitful a global experience in engineering can be. Please refer to the "Engineering Abroad Documents" below to view all global science and engineering opportunities offered for the upcoming academic year.
Undergrad-Abroad mixer
Our 4th Annual Global Initiatives Undergrad-Abroad Mixer was held on April 14.  This was a social event for all McCormick students considering, about to embark on, or recently returning from an abroad experience. As per previous student panels, students this year shared their varied experiences of research, internship, study, and projects abroad. Global Initiatives' mission is to inform our engineering students about the multiple international opportunities available abroad and how to pursue them.
Student Ambassador Awards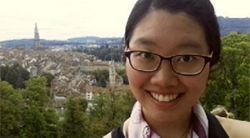 The Global Initiatives office invites undergraduates and BS/MS students with global perspective in their engineering careers to serve as Global Initiatives Student Ambassadors.
In return for a support stipend of up to $1,000 to help offset the travel costs of conducting scientific research, project work, or an industry internship abroad, Student Ambassadors will serve Global Initiatives mission creatively, using their opportunity abroad to inform the general public and/or their research/work community in their host country about Northwestern University, and upon returning, inform fellow McCormick students of their experience abroad. Note Study Abroad programs are not eligible for these awards.
How to Apply
Fill out an application.
Provide an NU transcript.
Write a motivation letter about the importance of this opportunity to your professional development, and explain what tasks you will undertake to serve as a student ambassador to fellow McCormick students upon your return.
Verify that you have already received the necessary support to conduct the research or industry internship, or acceptance into the program that coordinates the project work.
Submit your completed application, NU transcript, motivation letter, and verification of current financial support to global.initiatives@northwestern.edu.
Student applications will be reviewed on a rolling basis in the order they are received, but must be submitted at least 2 months prior to the departure date.
ENGINEERING ABROAD documents
Return to Top
Study Abroad, Exchange, and International Opportunities
Offices and Resources
Northwestern Engineering Offices
Northwestern Offices
More in this section