Argall Named to Crain's '40 Under 40'
She was recognized for her work bringing robotics to rehabilitation medicine.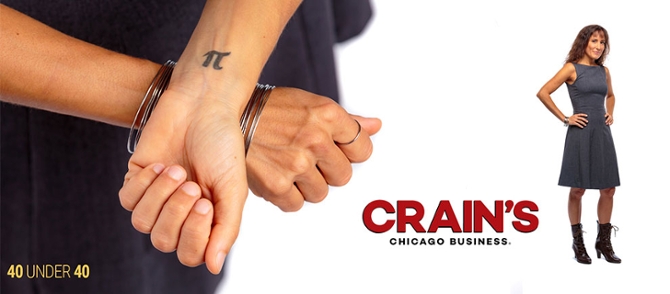 Crain's Chicago Business released its latest 40 under 40 project and Prof. Brenna Argall was recognized in this year's list for her work bringing robotics to rehabilitation medicine. She was featured as the woman at the forefront of moving robots out of the lab and into the too-real world of rehabilitative medicine and as a builder, thinker, and leader who makes us hopeful about Chicago's future.
Since 1989, Crain's has cast an annual spotlight on business leaders, politicians, artists and big picture thinkers who have reached a career peak before the age of 40. The criteria for being chosen examines a cross-section of people from the wide range of industries covered, including technology, consumer products, real estate, health care, finance, etc.—who are proven leaders in their field.
The 36-year-old's main research goal is to improve mobility for wheelchair users, getting human and machine to share control and shape its evolution. She aspires to design machine learning algorithms for which the data captured from people with motor impairments is an advantage instead of a disadvantage. Prof. Argall remarked at a recent seminar at Pittsburgh's Carnegie Mellon University (where she received her doctorate in robotics), "We're actually using robot motor learning to elicit human motor learning. We know sometimes the human and 'autonomy' are going to be fighting each other."
Among other topics, Prof. Argall discussed how growing up with six siblings and learning to accept adult responsibilities at a young age, shaped her her approach to problem solving later in life, "I was this serious kid who was always getting things done."
Check out the entire interview with Prof. Argall and the full list at ChicagoBusiness.com