Mehjabin S. Monjur & Leonidas Spinoulas Win Best Paper Award at SENSORCOMM 2015
Their winning paper was based on their summer intern research at Rambus Labs.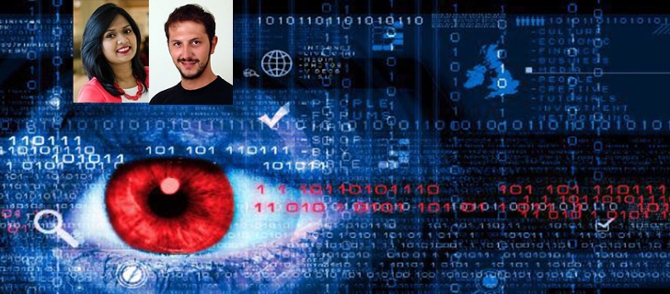 EECS Ph.D. Students Mehjabin S. Monjur and Leonidas Spinoulas in collaboration with Rambus Labs won the "Best Paper Award" at SENSORCOMM 2015, held August 23- 28, 2015 in Venice, Italy.
Mehjabin and Leonidas winning paper entitled "Ultra-miniature, Computationally Efficient Diffractive Visual-bar-position Sensor" was based on their summer intern research at Rambus Labs.
Abstract Summary: The sensor consists of a special-purpose wavelength-robust optical binary phase diffraction grating affixed to a CMOS photodetector array. This grating does not produce a traditional high-quality human interpretable image on the photodetectors, but instead yields visual information relevant to the bar-position estimation problem.
Mehjabin is a PhD Candidate at the Laboratory for Atomic & Photonic Technology (LAPT) under the supervision of Professor Selim Shahriar, working on Optical Signal Processing, Holography & Quantum mechanical video clip correlator. She has spent two summers as an research intern in the Computational Sensing and Imaging group of Rambus with Leonidas, David G Stork and Patrick Gill to design and develop the application specific lensless smart sensor
Leonidas is a PhD candidate at Image and Video Processing Laboratory (IVPL) under the supervision of Professor Aggelos K. Katsaggelos working on image processing and computational photography related projects.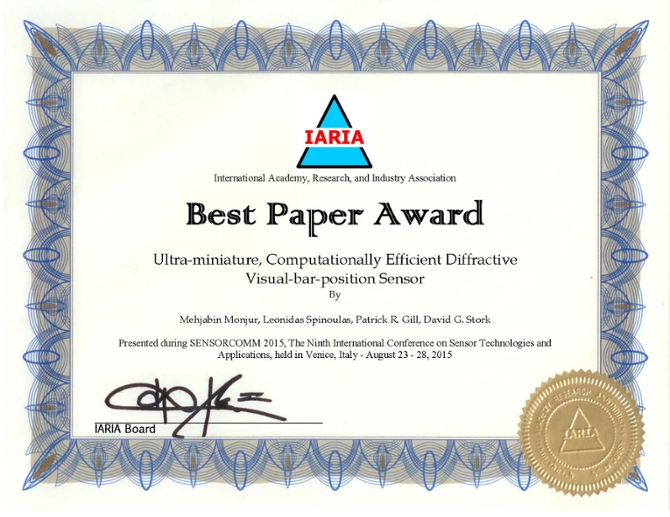 SENSORCOMM 2015 is the Ninth International Conference on Sensor Technologies and Applications.