Global Architecture Brigades goes to Honduras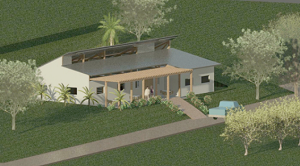 During Spring Break of 2012, ten Northwestern GAB members successfully completed their second trip to Honduras for the construction of the selected design for the el Canton Health Center.
In Northwestern's Civil Engineering department, there has been a growing interest in the intersection between architecture and engineering. With the popular architectural engineering certificate, the demand for an architecture group on campus has also increased. In 2009, two students, Mehri Paydar and Elif Koru, tried to respond to this demand by establishing the Northwestern Chapter of Global Architecture Brigades (GAB). 
Global Brigades is an umbrella organization that is currently the world's largest student-led global health and sustainable development organization. In various professional skills, Global Brigades provides an opportunity for students to improve the quality of life in under resourced communities. 
As a newly established chapter of this organization, Northwestern's GAB has had their first trip to Honduras for the construction of a school in Zurzular in the winter of 2010. Aside from the satisfying contribution they made to this community in need, this was also a great opportunity for hands on construction experience for the students, who got a chance to mix and pour concrete, cut re-bar, and nail concrete form-work on site.
This year, Northwestern students also took part in the design competition that accommodates Architecture Brigades projects. Before the brigade, various GAB chapters submit design proposals for the given project. The winning design is then constructed by brigade groups from across the country. This year, Northwestern submitted their design for the Health Center in El  Canton. Their design focuses on sustainability, ease of construction, and passive lighting and ventilation systems. Among 15 submission from the nation's top architecture schools, Northwestern's design became a top five finalist.
Northwestern's Global Architecture Brigades are looking forward to expanding the group over the next few years in order to continue their humanitarian contributions while at the same time enabling students to gain real world design and construction experiences.
Students who helped in the design are:
Jessica Chen, Frank Cummins, Brett Horin, Elif Koru, Meaghan McNulty, Karen Wang, Kelsey Watterworth, Ryan Yang, and Wesley Youman.
Students who went on the brigade:
Jessica Chen, Frank Cummins, Ryan Yang, Tony Guzman, Justin Moore, Kelsey Watterworth, Dan Lambson, Meraaj Haleem, Shaayak Sen, and Meghan McNulty.