Academics

  /  

Courses

  /  

Descriptions

CIV_ENV 395-0-27: Energy Geostructures and Geosystems
Quarter Offered
Spring : TTh 12:30-1:50 ; Rotta Loria
Prerequisites
Familiarity with the fundamentals of the mechanics of materials as well as with the essentials of heat and mass transfers
Description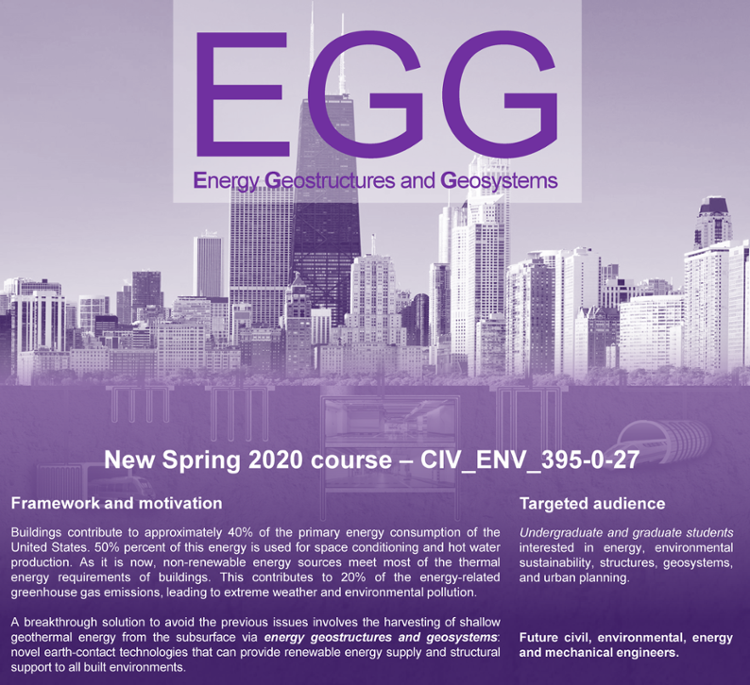 This course focuses on energy geostructures and geosystems: novel multifunctional earth-contact technologies that can provide renewable energy supply and structural support to any built environment. The course expands on the theoretical and experimental competence needed for the analysis and design of the considered technologies from energy, geotechnical and structural perspectives.
It also includes a project-based part devoted to the subsurface characterization of cities for energy harvesting and structural support purposes, considering the city of Chicago as a case study. The project-based part of the course will include:
A series of lectures devoted to characterize the subsurface of a yearly selected Chicago district
A field visit to install wireless sensors in key underground locations for a successive monitoring of the subsurface conditions, and
The employment of the recorded subsurface data for the design of a system of energy geostructures.
Specific learning objectives of this course are as follows:
Understand the phenomena governing the behavior and performance of energy geostructures and geosystems, with a focus on the deformation, heat transfer and mass transfer phenomena involved with their operation
Apply the previous knowledge to the analysis of the behavior and performance of energy geostructures and geosystems constituted by energy piles, energy walls and energy tunnels
Master the performance-based design of energy geostructures
This course targets students interested in energy, environmental sustainability, structures, geosystems, and urban planning. It has been structured with civil, environmental, energy and mechanical engineers in mind.
Course assessment:
40% Research project, to be performed in groups 
10% Research project portfolio, presentation and poster, to be performed in groups
 50% Final oral exam, to be developed individually 
Textbook:
Laloui, L. and Rotta Loria, A. F. (2019) Analysis and Design of Energy Geostructures, Elsevier
Course Description
Syllabus