Should I Start a Co-op Program at my Company?
Helen Oloroso, Assistant Dean and Director of Engineering Career Development, offers some helpful advice for employers considering starting a co-op program, and answers employers' most frequently asked questions: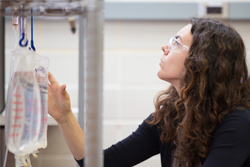 What are the benefits of starting a co-op program?
The principal benefit is having longer-term experience with a student where he or she develops over time, as opposed to a brief, fixed amount of time with an intern. With co-op, there is an opportunity to get to know a student beyond the honeymoon period. You get a chance to see how consistent they are and how they roll with the punches, which is important if you might be considering for a full-time role.
The quality of work is also a benefit. Co-ops last 2 to 3 years, so students have time to make a significant contribution during that period. The work is done by a student who has a deeper commitment, and that is reflected in the quality of work. This longevity also allows managers to give co-op students more significant projects, or even have them lead a project. You usually can't do that in 10 or 12 weeks with an intern because you don't get to know them and their work as thoroughly.
How can an employer tell if co-op is a good fit for their company?
The type of work is an important factor. If you have short-term work that can't be broken down into smaller segments, then interns might be a better route. However, if you have longer-term projects where it is disruptive to have new interns every few months, co-op is a better option. Co-op students are committed over a longer period, and though their work periods are intermittent, they come back with new knowledge they have gained at school to apply at work, and vice versa.
You also have to think about what your managers are like. I always think of the analogy of the emergency room doctor versus the primary care doctor: some people enjoy working with others for a short-period of time and then saying goodbye or referring them elsewhere, and others like to see people consistently over a longer-period of time. The "primary care" managers who want to develop students in a role are a better fit for co-op. You need a manager who can pay attention to how a student is growing in the role so they can assign the student a more challenging project the next time they return to work.
Companies might also consider developing a hybrid model for hiring students, so there are some longer-term projects that are handled by co-op students, and shorter-term work by summer interns. Different types of managers can then supervise each program depending on the type of relationship they want to have with students.
As a co-op manager, how do I develop performance measures?
Most schools will give employers an evaluation to fill out based on their accreditation criteria, which the school uses to demonstrate that the student has developed some basic competencies at their workplace.
However, employers also often have their own internal evaluations. It is a good idea to develop an evaluation for students that is similar to a regular full-time employee evaluation. This way, you can determine if the student might be a good fit for full-time work once they graduate.
How much should I pay a co-op student?
The most important consideration is to structure pay in a way that allows for increases each year and will get students to a point where they are making 10% more than their peers when they graduate. The experience they are getting should be reflected in a salary differential, so you have to project 2 to 3 years out to create a gradually increasing scale that will allow for a salary bump above their peers by the time they graduate.
It speaks well of our students that they are often more motivated by the experience rather than money when it comes to co-op. Students value the network they have created, and the clarity they gain about their long-term career goals. However, it is important for managers to consider that co-op students finish in five years instead of four, so you should make up for the year's worth of salary they are missing out on so they are not disadvantaged once they graduate.
Please see our Hourly Wage Information for Undergraduate Co-ops sheet for more information.
Is there anything else managers should know about starting a co-op program?
Deciding whether to start a co-op program is really a question of purpose. Do you want someone who will learn and develop in a role over a period of time, or is your company looking to hire a lot of student interns for a short-period of time to see who "sticks"? You get a longer-term commitment and you really get a different kind of candidate with the co-op approach.
How do I get started recruiting for a co-op program?
You can contact me at h-oloroso@northwestern.edu with any general questions regarding co-op programs. For recruiting inquiries or to develop a recruiting strategy, you can contact Allison Berger, our Manager of Employer Relations, at a-berger@northwestern.edu or by calling 847-491-2613.
More in this section