Director's Message
Message from the Director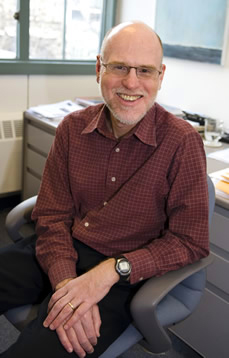 Since the inception of the Master of Biotechnology Program (MBP) in 2004, our aim has been to prepare scientists and engineers for fulfilling and dynamic careers in biotechnology and associated professions. From the outset we combined an integrated curriculum of modern biology and bioprocess engineering with in-depth biotechnology research projects guided by prominent faculty preceptors, and also focused on developing oral and written communication skills.
We strive to continuously improve the MBP by actively engaging our distinguished Industrial Advisory Board. Program enhancements have included a laboratory course in bioprocess engineering including design of experiments (DOE), new experiments for the molecular biotechnology lab, optional co-op industrial internships, and "Technology Commercialization – Fundamentals", a course examining the evolution of a biotechnology product from concept to market, including market research, regulatory issues, intellectual property, project management, process economics, and business. We recently enhanced the program with new certificates in Nanobiotechnology and Sustainability & Global Health Biotechnologies, as well as new courses in Critical Thinking, Technology Commercialization – Practicum, and Regulatory Sciences in Biotechnology.
The MBP's comprehensive training in bioprocess engineering includes lecture classes on the production and recovery/purification of biotechnology products, along with a 10-week lab class employing bench-scale bioreactors and separation equipment. Biologists and chemists develop analytical and problem-solving skills needed for these courses by taking two specially designed classes covering balances & kinetics and fluid mechanics & mass transfer.
Advanced, hands-on research remains a cornerstone of our curriculum. In addition to lab courses, all students are required to complete 1000+ hours of mentored, graded research in a single Northwestern faculty laboratory. We give our M.S. students the opportunity to plan and execute experiments, analyze data, and draw their own conclusions. Northwestern offers our students a superb environment for research and training in the medical and life sciences, engineering, and biotechnology.
Students may bolster their research and bioprocess experience further by enrolling in an optional, 3- to 6-month industrial internship. Our full-time industrial liaison helps students identify internships and full-time positions in research, process development, and regulatory science. Between our lab courses, graded research, and industrial internships, no other M.S. in Biotechnology program matches the number and diversity of research and development opportunities that our students receive. We provide an industrial perspective through courses in technology commercialization and regulation, as students compliment their technical, critical thinking and communication skills, while networking with alumni and other biotechnology professionals.
I encourage you to explore our website, give us a call, or email our program to find out how a Master of Science in Biotechnology can help prepare you for a rewarding and impactful career. Our faculty and staff would be happy to answer any and all of your questions.

William M. Miller 
Master of Biotechnology Program Director 
Professor of Chemical and Biological Engineering