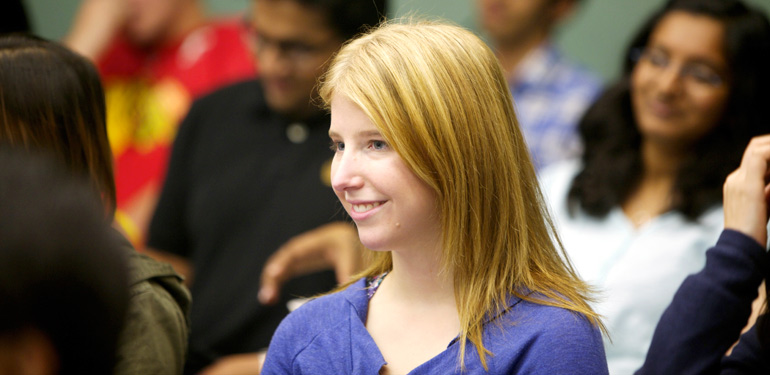 Career Opportunities
Some trend analysts have likened today's expanding biotechnology industry to the flowering of technologies that came out of Silicon Valley in the 1960s and 70s. Its continued growth hinges on advances in healthcare, industrial biotechnology, biofuels, and cleantech. The median starting salary reported by MBP graduates with jobs in the biotech industry is $65,000.
Jump to a Section
BUILDING A NETWORK
We connect our students with companies who discover and develop products in the pharmaceutical, medical device, agricultural, and industrial fields. Our graduates have claimed positions at biotechnology companies of different sizes and stages of development, as well as at traditional pharmaceutical and healthcare companies.
With our emphasis on research and bioprocess engineering, most graduates tend to find positions in biologics research, process development, pharmaceutical discovery, or medical diagnostics. However, students looking for alternatives to research or process development careers may consider opportunities in regulatory affairs, intellectual property law, or business operations where some MBP graduates now work.
View alumni profiles
Learn more about area biotech companies
View additional resources
Find MBP alumni and board members around the world
recruitment relationships
The following employers have established a relationship with the MBP, allowing for more personal engagement. Often, these employers recruit from our program first before looking elsewhere, or in some cases, will recruit exclusively from MBP candidates.
Graduate placements
Northwestern's MS in Biotechnology graduates have filled positions at biotechnology companies of different sizes and stages of development, as well as at traditional pharmaceutical and healthcare companies. The list below is a small sample of positions that MBP graduates have obtained at biotech companies. We encourage you to visit our alumni page to discover even more possibilities.
Biotech Companies
Amgen, Sr. Associate-Process Development
Genentech, Operations Analyst
Genzyme, Research Associate
MedImmune, Research Associate
PDL BioPharma, Development Associate

Pharmaceutical and Healthcare Companies
Abbott Laboratories, Cell/Molecular Biologist
Baxter, Engineer
Bristol-Myers Squibb, Associate Engineer
Johnson & Johnson, Sr. Regulatory Affairs Associate
Merck, Research Biochemist
Pfizer, Sr. Associate Scientist
Government and Contract Research
National Institutes of Health, Chemical Engineer
NASA/Wyle Laboratories, Biomedical Flight Controller
Taiwan FDA
Consulting & Regulatory Affairs
Graduates opting for careers outside the biotechnology industry have commonly pursued opportunities in consulting at companies such as Sg2 and Accenture.
International Students
If you are an international student considering working in the United States after graduating from the MBP, you should know that employers are required to verify eligibility to work in the U.S. and the identity of all employees, regardless of citizenship or national origin. F-1 and J-1 international students must apply to the United States Citizenship and Immigration Services (USCIS) agency for an Employment Authorization Document (EAD), or work permit. For more information on this process please visit Northwestern's International Visa page.
More in this section