Professor Dean Ho receives Society of Manufacturing Engineers Outstanding Young Manufacturing Engineer Award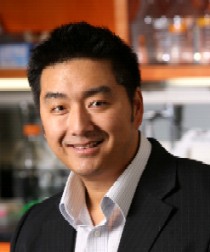 Photo By Andrew Campbell

Professor Dean Ho receives Society of Manufacturing Engineers Outstanding Young Manufacturing Engineer Award
Professor Dean Ho (Joint with Mechanical Engineering) was recently named a recipient of the 2009 John G. Bollinger Outstanding Young Manufacturing Engineer Award of the Society of Manufacturing Engineers. Prof. Ho was recognized for his work in developing scalably fabricated nanodiamond microfilm devices for applications in chemotherapeutic and anti-inflammatory drug delivery.
As described by the Society of Manufacturing Engineers, the Outstanding Young Manufacturing Engineer Award recognizes manufacturing engineers, age 35 or younger, who have achieved exceptional contributions, accomplishments and leadership in the manufacturing industry throughout the early stages of their careers.
Prof. Ho is investigating the fabrication of nanodiamond-based devices for targeted and localized drug delivery, as well as glucocorticoid-functionalized materials as post-operative treatment modalities. He has published over 80 peer-reviewed technical manuscripts and his research has garnered news coverage on the CNN homepage, Nature, United Press International, Reuters, Yahoo, The Chicago Tribune, USA Today, MICRO/NANO, as well as BBC Radio. He has also given multiple plenary/keynote talks in international meetings pertaining to nanomedicine and nanomaterials. He is a recipient of the Wallace H. Coulter Foundation Early Career Award for Translational Research, one of fifteen cancer researchers in the nation awarded a V Foundation for Cancer Research V Scholars Award, and was honored by the New Faces of Engineering National Award presented by IEEE.