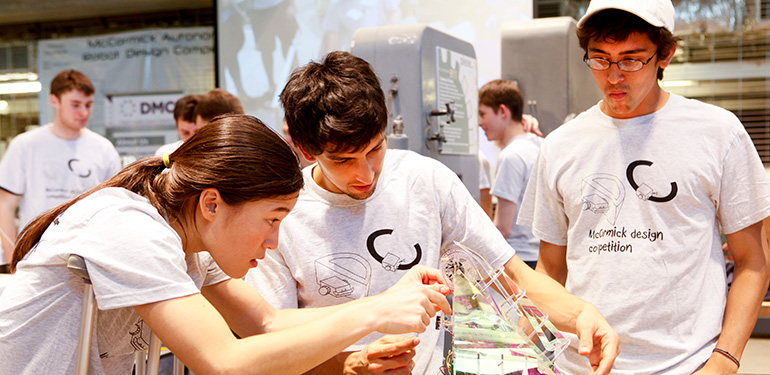 Student Groups
Student groups at McCormick provide an important opportunity for undergraduates to develop leadership skills and create opportunities to network with faculty, staff, and professionals in the field.
To get involved, reach out to the group directly or contact Ellen Worsdall, Assistant Dean for Student Affairs, in the Office of Undergraduate Engineering, at 847-491-5173 or e-worsdall@northwestern.edu.
Learn how to start or continue a student group at McCormick
Jump to a Section
Student Advisory Board
The McCormick Student Advisory Board (MSAB) was formed to open up lines of communication between McCormick's undergraduate student body and the faculty and administration. The board's advisory role involves it in all areas of McCormick life, from filling the undergraduate positions on administrative committees to assisting student group leaders in organization, advertising, and programming.
All board members work on at least one project of their choice through a committee or individually. The board meets to give updates and discuss new ideas.
Contact Dean Worsdall for more information about the McCormick Student Advisory Board. 
Departmental Groups
American Institute of Chemical Engineers (AIChE)
Joining AIChE is a great way to meet your classmates and to learn more about career and graduate school opportunities in chemical engineering. Join us for short technical talks, plant tours, social events, and other activities.
Contact: aiche@northwestern.edu
The goals of the Northwestern ASCE student group are to 1) help bridge the gap between what is learned in class and what is practiced in the field, 2) improve communication between students and professors outside of class and 3) to inform students of the opportunities in a civil engineering related career. This is accomplished through educational and social events inspired by the civil engineering student body and organized by the student chapter in collaboration with faculty.
American Society of Mechanical Engineers (ASME)
ASME helps the global engineering community develop solutions to real world challenges. Founded in 1880, ASME enables collaboration, knowledge sharing and skill development across all engineering disciplines, while promoting the vital role of the engineer in society. ASME codes and standards, publications, conferences, continuing education and professional development programs provide a foundation for advancing technical knowledge and a safer world. Its mission is to serve our diverse global communities by advancing, disseminating and applying engineering knowledge for improving the quality of life; and communicating the excitement of engineering.
Contact: asme@northwestern.edu
BMES at Northwestern promotes the increase of biomedical engineering knowledge and its utilization in the Northwestern community and aims to help undergraduate students meet their academic and career goals.
The mission of EnvEUS is to bring community to the environmental engineering department, promote collaboration, assist in networking, and provide knowledge of potential career paths. Also by participating in competitions and projects focused on environmental sustainability we aim to give students the opportunity to put classroom skills to practical use.
IEEE-NU has three main focus areas: community, career, and courses. It supports any Northwestern student studying electrical engineering, computer engineering, any allied branch of engineering (biomedical, mechanical, etc.), or the related arts and sciences (computer science, information systems, etc.).
The mission of the Northwestern University IIE student chapter is to strengthen interaction between students, faculty and industry in order to foster an environment for the future professional and educational growth of graduate and undergraduate Industrial Engineering students. IIE at Northwestern University interacts with Northwestern's highly ranked IE department and works on creating a positive impact on campus through the social and professional events it organizes.
MatSci Club is the undergraduate materials science club and education group on campus. The club seeks to serve the interests of both enrolled Materials Science and Engineering undergraduate students and those students in other majors with an interest in materials.
Design Groups
DFA is an award-winning, nationwide network of interdisciplinary student teams and community members that use design to create local, social impact. Founded in 2009 by Liz Gerber and students, DFA trains college students to apply human-centered design and implement innovative solutions based on insights into human needs, rapid prototyping, user-testing, and interdisciplinary team work.
Every spring, teams of McCormick undergraduates from different departments come together to build robots and compete for prizes. Teams of students design, build, and program their robots independently before setting their creations loose on a pre-determined track.
Founded in 1998, NUsolar is an undergraduate student organization that designs, builds, and races solar-powered vehicles. Team members take on a wide spectrum of responsibilities, including engineering, manufacturing, operations, marketing, and finance.
Northwestern Formula Racing is an extracurricular student organization dedicated to hands-on engineering excellence. Five dedicated students founded the team in September 2006. Over the next 18 months, the team applied the knowledge learned in the classroom to each component and system on the car. Northwestern Formula Racing's first vehicle competed in FSAE 2008, at the Michigan International Speedway. Of the 120 entries, Northwestern University placed second among first-year teams and 37th in design, earning "remarkable first-year effort" from the judges.
Founded in 2006, this undergraduate organization designs and builds racecars from scratch to compete in the Formula SAE race, organized by the Society of Automotive Engineers.
The Society of Automotive Engineers is a national organization that promotes education and development in the field of transportation technologies. Among its activities are college-level competitions in vehicle design, one of which is the Mini Baja competition. There are different competitions in various parts of the country; Northwestern University competes in the Midwest region.
Northwestern's design-focused student organization, NODE provides creative workshops and access to tools that improve the undergraduate community's design work and instruction. 
NUSTARS participates in several NASA programs, chief among which are the University Student Launch Initiative (USLI), the Reduced Gravity Flight Education Program (RGFEP/Microgravity University), and the CubeSat Launch Initiative. Students design, build, and launch high-powered sounding rockets, microgravity experiments, and small satellites for the respective programs. Each of these programs also has an educational outreach requirement. Members advocate for research related to space exploration; and engage students and educators at Northwestern and in the Evanston and Chicago communities in learning about the Universe, space technology, and rocketry.
NU Robotics Club
NURobotics is focused on learning about and promoting research projects involving robotics. At the present time, our primary focus is on making the "Hermes" bipedal robot walk, both in simulation and in hardware. Email Jane Miller for more information.
Special Interest Groups
HackNorthwestern is a student initiative built from the ground up to foster student creativity, entrepreneurship, and hacker spirit!
ESW at Northwestern mobilizes engineers through education, training, and practical action, while building collaborative partnerships to meet the needs of current and future generations. They focus to educate themselves, educate the community, and commit to action oriented projects. Through this model, ESW has advanced sustainability on Northwestern's campus and has inspired several students to go on to careers in industry, policy, and other organizations supporting sustainability.
EWH Northwestern seeks to inspire and mobilize the engineering community, to improve the quality of healthcare in vulnerable communities, and provide students with an opportunity to repair, build, and learn about medical devices.
EWB is a humanitarian organization estabilished to support community-driven development programs worldwide through partnerships that design and implement sustainable engineering projects, while creating transformative experiences that enrich global perspectives and create responsible leaders.
GWB connects water professionals with community leaders and empowers motivated villages by providing the seed capital and resources to attain safe drinking water and create sustainable change in underserved communities.
This student-run, interdisciplinary group connects entrepreneurship resources throughout Northwestern. EPIC sponsors entrepreneurship competitions, coordinates special events, and provides general support for entrepreneurial students.
NSBE is a group dedicated to increasing the number of undergraduate and graduate minority students in engineering, stimulating and developing student interest in the various fields of engineering, promoting public awareness of the opportunities available to minorities in engineering and function as a representative body on issues and developments that affect the careers of black engineers. 
SHPE at Northwestern promotes the advancement of all ethnicities, majors, and backgrounds in education, employment, and society. SHPE serves the Northwestern Community and surrounding schools through academic workshops, community service, and cooperation between student groups.
Northwestern's SWE chapter, founded in 1976, includes graduate and undergraduate female and male engineers interested in making a change both on and off the campus. SWE members build relationships and networks with other female engineers and scientists, developing their skills in leadership, problem-solving, and interpersonal relationships.
The mission of the student organization Women in Computing (WiC) is to provide an academic, social, and pre-professional network to help connect and support their undergraduate females interested in computer science and related fields at Northwestern University.
Honor Societies 
This is the official Electrical and Computer Engineering honor society. HKN plans and hosts events to encourage student-faculty contact and foster a community of students with an interest in technology.
The KTE Cooperative Engineering Education Honor Society is a national society that recognizes cooperative education and internship students for academic excellence. KTE works closely with the McCormick Office of Career Development to promote cooperative education and internships at Northwestern.
Omega Chi Epsilon is the National Honor Society for Chemical Engineering. Founded in 1931, the society promotes and recognizes high scholarship, original investigation in chemical engineering, and valuable traits of character, integrity, and leadership.
This society encourages and recognizes superior scholarship and/or leadership achievement at the undergraduate and graduate levels, both in broad fields of education and in departmental fields.
More in this section