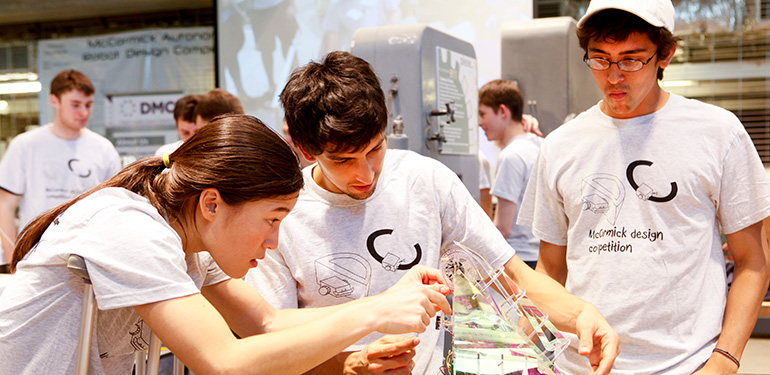 Student Groups
Student groups at McCormick provide an important opportunity for undergraduates to develop leadership skills and create opportunities to network with faculty, staff, and professionals in the field.
To get involved, reach out to the group directly or contact Ellen Worsdall, Assistant Dean for Student Affairs, in the Office of Undergraduate Engineering, at 847-491-5173 or e-worsdall@northwestern.edu.
Learn how to start or continue a student group at McCormick
Jump to a Section
The McCormick Student Advisory Board is composed of representatives from each class in engineering and from approved McCormick organizations. It is the recognized representative body of undergraduate engineering students and as such serves as a link between the students and the faculty and administration. It encourages and coordinates the activities of engineering students and student groups.
Contact Michael Chen for more information about MSAB. 
Departmental Groups
Joining AIChE is a great way to meet your classmates and to learn more about career and graduate school opportunities in chemical engineering. Join us for short technical talks, plant tours, social events, and other activities.
Contact: aiche@northwestern.edu
The goals of the Northwestern ASCE student chapter are to 1) help bridge the gap between what is learned in class and what is practiced in the field, 2) improve communication between students and professors outside of class and 3)to inform students of the opportunities in a civil engineering related career. This is accomplished through educational and social events tailored to the civil engineering student body and organized by the student chapter in collaboration with faculty.
ASME allows students to interact with practicing mechanical engineering professionals, providing the opportunity to network, develop skills, and learn together. At Northwestern, students also learn from faculty, creating a community around mechanical engineering that enables skill sharing and mentoring within the field as well as cross-collaboration with other student groups. Additionally, ASME serves to inform students of career opportunities directly related to the field of mechanical engineering and connect students, professors, and professionals in order to relate classroom knowledge to industry applications.
Contact: asme@northwestern.edu
BMES at Northwestern promotes the increase of biomedical engineering knowledge and its utilization in the Northwestern community and aims to help undergraduate students meet their academic and career goals.
EnvEUS fosters community in the environmental engineering department, promotes collaboration, assists in networking, and provides knowledge of potential career paths. Students are also given the opportunity to put classroom skills to practical use by participating in competitions and projects focused on environmental sustainability.
The NU Student Branch is one of more than 1,150 student branches at universities worldwide. Membership is a great way to make connections with other students, engineers, and the industry. As the leading technical authority in many areas, IEEE contains a wealth of information available to its members.Through its members, the IEEE is a leading authority in technical areas ranging from computer engineering, biomedical technology and telecommunications, to electric power, aerospace and consumer electronics, among others.
The Northwestern chapter of the Institute of Industrial and Systems Engineers (IISE) strives to improve the IEMS student experience by fostering community, providing academic & career services, and serving as the department liaison between administration and students. We work to coordinate activities for students in order to better their academic, career, and social lives here as Industrial Engineering undergrads and facilitate communication with the rest of the department in order to do so.
The main goal of Material Advantage is to spread awareness of the field and provide support for those looking to delve deeper into the subject. To support this goal we help with  outreach events to raise awareness to young people who are not yet in college, run events at Northwestern to raise awareness within the school of the major and what you can do with it, and work to increase the connection between undergraduates and graduate students as well as the relationships between the different year groups so that we can share information to help move the field and our individual parts of the field forward. We also organize trips to the local Chicago Material Advantage chapter's meetings to help Materials Science students see what is happening outside of Northwestern and be able to interact with professionals. 
The MatSci Club serves the interests of materials science students as well as students in other majors with an interest in materials by providing educational, career-oriented, and social events. Masi Club also coordinates a mentoring program, assisting underclassmen by providing an opportunity to interact with an upperclassman peer on the individual level. Outreach events are a center point of Masi Club as well, where materials science students volunteer to spread materials education to K-12 students.
Design Groups
Design for America's vision is a world where people believe in their ability to innovate and tackle the most ill-structured challenges of our time. Our mission is to develop a pipeline of leaders of innovation and create impact through the implementation of DFA projects.
The mission of DISC is to ignite a new generation of leaders working at the intersection of technology and social impact, expand the use of technology as a force for good, and build a more socially responsible tech industry.
The Northwestern University Solar Car Team is a student organization that designs, builds, and races solar powered vehicles. Our mission is to provide opportunities for Northwestern Students to gain hands on experience with challenging engineering problems related to energy efficient design, advanced composite materials manufacturing, high power electrical systems, and embedded microprocessing.
Northwestern Formula Racing is a student-operated automotive team. We design, manufacture, validate, and race a formula style car each year. This ambitious and interdisciplinary project allows students to bring their coursework to application, gaining experience in all areas, from engineering and fabrication to project management and leadership. Founded by five students in 2008, our team now routinely consists of 40-60 students from across McCormick and Northwestern. We compete twice a year with over 150 other teams from around the world at FSAE Michigan and Lincoln. Our most recent vehicle, NFR18, became the second in team history to finish a grueling endurance course this June, and placed 14th in acceleration at the
Founded in 2006, this undergraduate organization designs and builds racecars from scratch to compete in the Formula SAE race, organized by the Society of Automotive Engineers.
The Society of Automotive Engineers is a national organization that promotes education and development in the field of transportation technologies. Among its activities are college-level competitions in vehicle design, one of which is the Mini Baja competition. There are different competitions in various parts of the country; Northwestern University competes in the Midwest region.
NORTHWESTERN UNIVERSITY SPACE TECHNOLOGY AND ROCKETRY SOCIETY is an organization comprised of six different aerospace interest teams. The mission of each team is outlined below. Overall, the goal of NUSTARS is to advocate for research related to space exploration.
NASA Student Launch (NSL): design, build, and launch a reusable rocket with science payload, in accordance with NASA Student Launch competition rules.
Foundation Rocketry Team (FRT): design, build, and launch a reusable rocket with science payload, in accordance with another High Power Rocketry competition to be selected by Foundation chief engineer and project manager.
Revolutionary Aerospace Systems Concept- Academic Linkage (RASC-AL): complete the design and documentation for a scientific payload, in accordance with the NASA Revolutionary Aerospace Systems Concept- Academic Linkage rules.
Near Space Exploration Team (NSET): design, build, and launch a high altitude weather balloon with the long term goal of completing a data logging system and competing in a national design competition.
Education and Outreach: engage students and educators at Northwestern and in the Evanston and Chicago communities in learning about the Universe, space technology, and rocketry; as well as leading the level 1 high powered rocketry certification of novice NUSTARS members.
Alka-Rocket: design, build, and launch an alka-seltzer powered rocket in accordance with the Bayer Alka-Rocket Challenge
NU Robotics is a student-run organization that sponsors a multitude of engineering focused projects for. Our mission is to develop a core community of undergraduate student builders interested in robotics and unifying them across majors. The projects range from technical research projects to start-up ideas to yearly competitions. We welcome every type of student and hold workshops during the fall to teach and provide hands-on experience to newcomers, so students from all over can join the build!
Email Albert Dotson for more information.
Special Interest Groups
HackNorthwestern is a student initiative built from the ground up to foster student creativity, entrepreneurship, and hacker spirit!
Engineers for a Sustainable World (ESW) mobilizes engineers through education, training, and practical action, building collaborative partnerships to meet the needs of current and future generations. ESW-NU builds leaders in sustainability by:
Educating ourselves
Educating our community
Committing to action-oriented projects
Through this model, we have not only advanced sustainability on our campus and around the world, but we have inspired several of Northwestern students to go on to careers in industry, policy, and organizations promoting sustainability.
EWH Northwestern is part of a larger national organization. EWH works with university-based biomedical engineers, industry professionals, charities that manage donated medical equipment, the international health community, and developing countries to combine innovation in appropriate technology with direct support to medical technology management, maintenance, and repair.
EWB-NU supports community-driven development programs worldwide by collaborating with local partners to design and implement sustainable engineering projects while creating transformative experiences and responsible leaders. Our vision is a world in which the communities we serve have the capacity to sustainably meet their basic human needs and that our members have enriched global perspectives through the innovative professional educational opportunities that the EWB-USA program provides.
Our organization mission is to empower communities particularly in countries in Central America by designing and building structures in impoverished areas. Through this, we are able to enrich the lives of students through our philanthropic endeavors and through architecture tours and brainstorming sessions throughout the school year.
NSBE is a group dedicated to increasing the number of undergraduate and graduate minority students in engineering, stimulating and developing student interest in the various fields of engineering, promoting public awareness of the opportunities available to minorities in engineering and function as a representative body on issues and developments that affect the careers of black engineers.
SHPE at Northwestern University promotes the advancement of all ethnicities, majors, and backgrounds in education, employment, and society. SHPE at Northwestern University serves the Northwestern Community and surrounding schools through academic workshops, community service, and inter-student group cooperation.
SWE's mission is to create a supportive community of female engineers through professional development and social programming. We aim not only to empower our members to fulfill their full potential as engineers and leaders but also to inspire the next generation of engineers through STEM outreach programs.
Women in Computing (WiC) is a Northwestern community for women, non-binary, and trans-folk who are passionate about technology. We connect our members with professional opportunities and mentors, and help them develop technical and interpersonal skills through workshops and opportunities for leadership. These events help them foster a sense of belonging and solidarity, and leave them proud and excited to be women in tech.
Honor Societies 
This is the official Electrical and Computer Engineering honor society. HKN plans and hosts events to encourage student-faculty contact and foster a community of students with an interest in technology.
Omega Chi Epsilon is the National Honor Society for Chemical Engineering. Founded in 1931, the society promotes and recognizes high scholarship, original investigation in chemical engineering, and valuable traits of character, integrity, and leadership.
This society encourages and recognizes superior scholarship and/or leadership achievement at the undergraduate and graduate levels, both in broad fields of education and in departmental fields.
More in this section